G100 GLOBAL CHAIR, eminentna grupa 100 žena globalnih lidera u svetu, pozvala je u svoje redove dr Sanju Popović Pantić, predsednicu Udruženja poslovnih žena Srbije, što predstavlja veliku čast za sve nas i našu zemlju. Autentnična grupa žena liderki i vizionarki, koju čine dobitnice Nobelove nagrade, nekadašnje predsednice država, ministarke, poslovne žene, filantropkinje, investitorke, preduzetnice, korporativne liderke, prvakinje u svojim zajednicama, uključuje žene iz 100 različitih sektora, povezanih kroz globalno sestrinstvo. Cilj grupe je da obezbedi snažno vođstvo u dekadi koja je pred nama, kako bi se stvorila nova budućnost koja uključuje jednakost, jednake mogućnosti, inkluziju i ekonomsko osnaživanje žena na globalnom planu. https://g100.aall.in/ Prenosimo reči dobrodošlice kojom su je dočekale:
Pozdravljamo dr Sanju Popović Pantić!
Liderka u inovacijama u oblasti malih i srednjih preduzeća, predsednica najvećeg nacionalnog udruženja žena preduzetnica, osnovanog 1998. godine. Tokom tog vremena realizovano je blizu 200 projekata sa ciljem jačanja ženskih preduzetničkih inicijativa, programa, startapova i kompanija. Doktorat u oblasti ženskog preduzetništva stekla je 2013. godine na Ekonomskom fakultetu Univerziteta u Beogradu, Srbiji. Od Maja 2015. godine predsedava Sektorskom grupom za žensko preduzetništvo u okviru projekta Evropske mreže preduzetništva (Enterprise Europe Network / EEN) koji finansira EU. Autorka je tri knjige zasnovane na istraživanju ženskog preduzetništva u Srbiji, "Od ranjive do održive grupe: prevazilaženje siromaštva žena putem samozapošljavanja" (2007), "Održivost ženskih biznisa" (2010) i "Dve decenije ženskog preduzetništva u Srbiji" (2020).
Bila je angažovana kao ekspertkinja na projektu UN Women "Unapređenje ekonomskih i socijalnih prava žena u Srbiji", a trenutno je angažovana kao ekspertkinja za održivost u Izvršnoj agenciji za mala i srednja preduzeća (EASME), imenovanje u okviru nove EEN ekspertske grupe za podršku održivosti malih i srednjih preduzeća. Učestovala je i kooridnirala izradu nekoliko komparativnih studija o ženskom preduzetništvu, uključujući i najnovije, vezane za pristup malih i srednjih preduzeća lancu snabdevanja u zemljama Balkana. Aktivno promoviše rodnu ravnopravnost u lancima snabdevanja.
Američka ambasada u Srbiji nominovala je za nagradu "The World of Difference 100", koju joj je 2012. godine uručila Međunarodna alijansa žena sa sedištem u Vašingtonu, SAD. Iste godine dobila je nacionalnu nagradu za razvoj preduzetništva "Planeta Biznis". Ministarstvo privrede Srbije nagradilo je za poseban doprinos ženskom preduzetništvu u Srbiji. Odlikovana je i regionalnom nagradom "Stvaratelji za stoljeća" 2015. godine, a 2017. nagrađena je za "Naj ženu u biznisu", renomirane nacionalne fondacije "Kapetan Miša Anastasijević".
U jednom intervjuu je istakla: "Mislim da je krajnje vreme da se zapitamo šta možemo učiniti da, makar i na kratko, svoje veštine, znanja i iskustvo stavimo u službu nečega što nam svakako neće doneti novac, ali će nesumnjivo poboljšati kvalitet naših života i vratiti osmehe na naša lica ".
Draga Soul Sister, pionir promena izuzetne energije, koja vraća nadu svojim angažovanim liderstvom. Osnažena eminentna grupa  #G100  jača je uz tvoje prisustvo i vođstvo.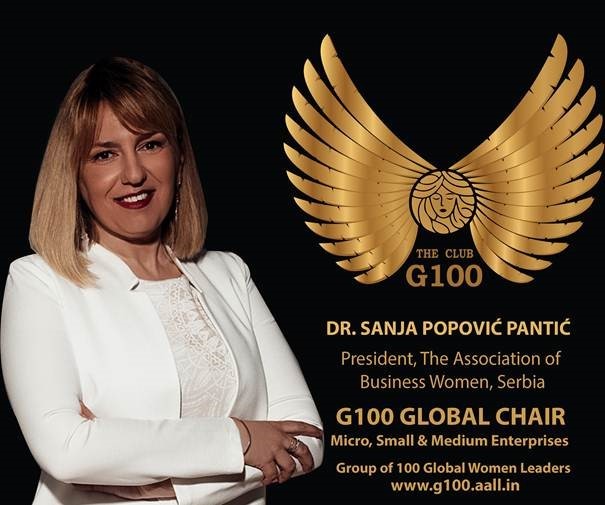 Welcoming Dr. Sanja Popovic Pantic.
Leading innovation in SME sector and female entrepreneurship, she is the President of the biggest national association of female entrepreneurs in Serbia running since 1998. During that time, nearly 200 projects have been realized in strengthening female entrepreneurial initiatives, projects, start up and established companies. She obtained PhD in female entrepreneurship in 2013. at the Faculty of Economics, University of Belgrade, Serbia. She has been chairing Woman's Entrepreneurship Group within the EU funded project Enterprise Europe Network (EEN) since May 2015. She is the author of three books based on the research of female entrepreneurship in Serbia viz.: "From vulnerable to sustainable group" – how to overcome poverty among women through self-employment in 2007, "Sustainability of female businesses", which was published in 2010 and "Two decades of women's entrepreneurship in Serbia" published in 2020.
She has been engaged also as UN Women expert in their project "Advancing women's economic and social rights in Serbia." Currently, she is engaged as the Sustainability expert by Executive Agency for SMEs (EASME) which is the appointment within the EEN's new expert group on sustainability support to SMEs. She completed a few comparative studies in female entrepreneurship including the latest one relates to SME's access to supply chain in the Balkan countries. She is promoting actively gender equality in supply chains.
US Embassy in Serbia nominated her for The World of Difference 100 Award, which has been delivered to Sanja by The International Alliance for Women in 2012. In the same year, she has been awarded with the national award in entrepreneurship development by "PLANETA BIZNIS". She has been awarded by the Ministry of Economy in Serbia for the Special contribution to female entrepreneurship in Serbia. She has also been honored by the regional prize "Creators for centuries" in 2015. and "The best businesswoman of the year" in 2017 delivered by the noted national Foundation "Captain Miša Anastasijević".
She adds in an interview, "I think it is high time to ask ourselves what we can do to place our skills, knowledge and experience, even if only briefly, in the function of promoting something that certainly won't bring us money, but will undoubtedly improve our quality of life and bring smiles back to our faces".
A dear Soul Sister pioneering change with high energy and bringing hopes to life with engaged leadership. The empowered and eminent group of#G100 is stronger with your presence and leadership.